The day began poorly.  An inch of sloppy rain-snow mush covered the driveway, and of course at the foot of said driveway the plowman had left boulders of heavy stuff.  Harsh words exchanged with Merry over the when, where and how of the shoveling task.  I knew it had to be done, that I'd be the one doing most of it… I just didn't like the way it all unfolded.  Never mind.  We got over it.
I spent most of the day fiddling with this site, trying odd ways to link in a hierarchy of galleries.  I was over-thinking it, as usual.  Got to a point mid-day where I thought I'd "broken" NextGen somehow, I just couldn't get to that Pro Lightbox view on any of the galleries, and even submitted a support ticket about that. That turned out to be my mistake.  You get to the Pro Lightbox by clicking that tiny gray arrow icon

below the gallery or thumbnail.  If the gallery in question is being displayed as a grid of thumbnails, you can just click or tap a thumbnail.  But if the gallery is being displayed as a slideshow, you have to click the tiny arrow icon.
A NextGen gallery is just a collection of images.  The manner of its display within a page is chosen while composing the post or page.  It's the first choice you make after clicking the green rectangle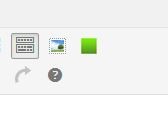 to insert a NextGen gallery into a page.  A different page could display that same gallery in a different way.
NextGen Gallery is rife with oddities and idiosyncrasies.  The Pro Lightbox doesn't allow "pinching" of the image.  Thumbnails are generally square, but my images aren't… that sucks a bit.  Numerous tweaks can be applied to gallery types, but not on a per-instance basis, as far as I can tell.
Anyway, one key take-away from the preceding few paragraphs: there are galleries and there are gallery-display-types.  The gallery itself doesn't have a type; rather, the type is assigned in each instance where the gallery chosen for display.
In order to install WordPress in the first place, I had to get my hosting company to upgrade the PHP version I was using.  Well, guess what… that ended up killing my ancient Gallery site, which was based on an ancient version of PHP.  I grabbed all the images off the host and began shoveling them into pages here on this WordPress site.  Short term effort — this will all be re-done.  Again, the best way I've found (so far) for displaying NextGen galleries is to create a new page, and then insert a NextGen gallery into it.  The WordPress sidebar lists all the pages so there's a link to each gallery.
One final aside.  I did manage to achieve "remote triggering" of my RX100 camera as I'd alluded to in the previous post.  It involved a larger servo than I'd expected, but when I finally figured out how to mount the thing it worked like a charm.  The servo is black, the camera is black, available light was scarce, so no photo for now, sorry…